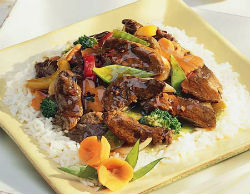 February is American Heart Month!
That means it's time to break out our heart healthy beef ideas and enjoy them!
A favorite of mine is this Honey Teriyaki Beef & Broccoli Salad above. It's light and fresh and good for you, too!
The recipe calls for yummy and delicious Beef Tenderloin Tips or Top Sirloin Tips. I love them! Click here for step by step instructions for this beefy salad.
It's an easy way to be good to your heart this month and your taste buds, too!
Photo courtesy of KansasCitySteaks.com.