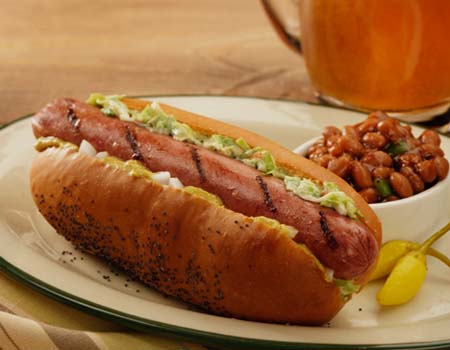 One of the greatest things about beautiful weather is the ability to have COOKOUTS!
Next time you're grilling up hot dogs, try a Cookout Condiment Bar to make it even more special.
Really make it a feast for the eyes as well as the stomach. It's the secret all great restaurants know. 🙂
Separate all condiments into stainless steel or clear bowls – out of their original jars and squeeze bottles. Supply each bowl with an appropriately-sized serving spoon and line them up, preferably in a covered, shaded area.
Be sure to include all the traditional items like relish, mustard, ketchup, maybe onions, sauerkraut, and chili.
But why not add some non-traditional choices as well? Try including avocado, tomatoes, spicy condiments like sriracha, and then throw in a unique twist like sliced lemons. Have you ever squeezed lemon juice onto your hot dog? Try it! You might love it!
Have fun thinking up wild condiments that not only add flavor to your hot dogs, but color as well. A beautiful plate makes it taste that much better.
Be sure to start with all beef hot dogs (my must-have) and have fun with your own Cookout Condiment Bar!
Photo courtesy of KansasCitySteaks.com.