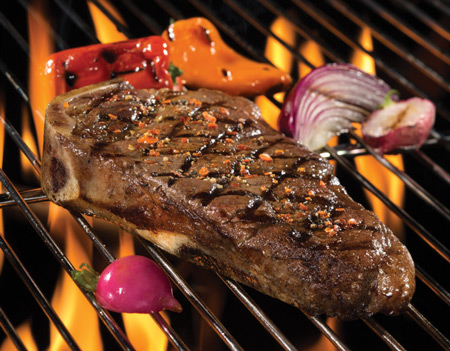 When grilling steak, you've got to master the art of using direct heat AND indirect heat. A combination of the two is best when you're cooking steak.
Direct heat is just that – placing the meat directly above the heat source (the flame on a grill). The lid is open and this method is best used to first sear the steaks. Yum!
After the searing over direct heat is done, you can move to indirect heat. That's when you use the reflected heat to cook the meat with the lid closed. Use the area of the grill set up for this – many times the center of the cooking grate. The meat is not directly over a flame but is getting cooked good and juicy.
But the more you open the lid the longer it takes when using indirect heat. Keep that in mind.
Really great steaks require both direct and indirect heat to make them truly special. And the extra time it takes makes all the difference in your final product.
So get out there and use that direct and indirect heat to your advantage this grilling season!