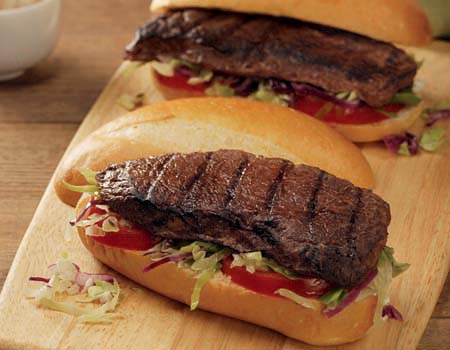 Baseball? Preseason football? Your kid's soccer tournament? Badminton?
It doesn't matter. It's tailgatin' time all around the U.S.A.!
Wherever you live, whoever your team, we all have one thing in common – we need to cheer on our players and we need to eat.
Preferably at the same time.
Whether you're actually set up out of the back of your truck or car or you're in your living room or basement, the food has GOT to be right!
And this takes planning, my friends.
Portable grills are perfect for grilling steak in a parking lot. I've been known to dig in to the finest steaks in parking lots all around the country.
It's about dedication, people.
So be sure to pack up the portable grill, a cooler full of steak and accompaniments and all your sides. Plates, napkins, beverages and trash bags are must-have also. Plus containers to transport the leftovers – if there are any.
So what are the best steak cuts for tailgating?
For us, it's Kansas City Strips and Sirloin steaks, hands down. No question.
Why?
They're hearty and meaty and perfect for creating Steak Sandwiches. For tailgating, sandwiches are king! Everybody can personalize their sandwich with their own choices – sauces, lettuce, pickles, tomatoes, etc.
Delish!
Plus, the smell of steaks grilling is enough to get any fan riled up – whether it's in the stadium lot or your own backyard. There's just something in the smoke.
Maybe throw on some filets for the purists who prefer not to create a sandwich and just want the full steak experience.
I can appreciate that, too.
While you're planning, take a look at these Tailgating Favorites including the all-important Steak Sandwiches, all-beef hot dogs, burgers, brats, brisket, ribs and more.
You're sure to find some inspiration for creating the perfect tailgating experience for your crew. Go team!