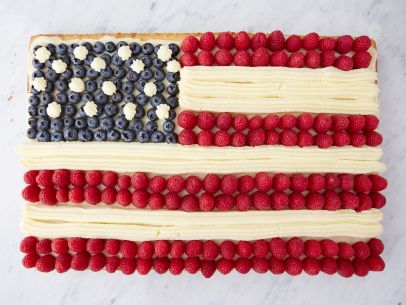 It's time to start thinking of fun things to serve on the most patriotic of holidays – the 4th of July!
Try these USA-inspired meal ideas and whoop it up this Independence Day!
BLEU CHEESE BURGERS
Color is of utmost importance with your 4th of July presentation. So try some colorful burgers with white onion, ketchup/tomato and a sprinkle of bleu cheese. You may have to hunt to see the blue – but, hey, that's half the fun!
LAYERED PATRIOTIC DRINKS
For a fun red, white and blue-colored drink, start with ice cubes that will appear white, pour cranberry juice on the bottom of a clear glass or cup, then add blue G2 Gatorade on top. You'll have patriotism in a glass!
DELICIOUS FLAG CAKE
Chef Ina Garten's gorgeous flag cake (seen above) features all of the beautiful colors of the American flag. What better way to show your appreciation for our country? Click here to see the recipe and ingredient list for this beauty.
Then, have fun coming up with your own ideas using the red, white and blue theme. Get the kids involved, too. It's more fun that way! Happy almost 4th, everybody!
Photo courtesy of FoodNetwork.com.