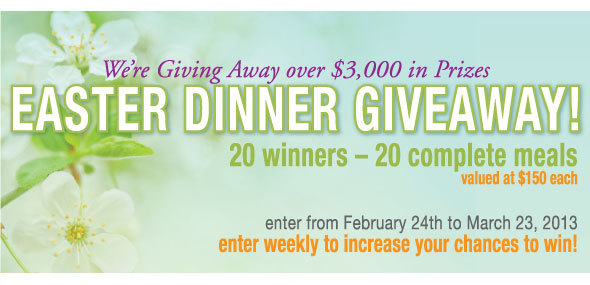 Are you thinking about Easter yet? It'll be here before we know it. It's on March 31st this year!
If you're feeling lucky, enter this contest from the Kansas City Steak Company for your chance to win a complete Easter dinner – Smoked Ham or Prime Rib, Twice Baked Potatoes and Carrot Cake or Red Velvet Cake.
I, for one, would LOVE to have my Easter dinner planned out ahead of time. Saves me from scrambling to fit it into all the millions of other things going on in my life.
It sure will be nice to slow down and have a beautiful meal with the ones I love, though. And on cue, my stomach is growling.
Let me know if you're the lucky winner of the complete meal giveaway. My family and I would love to join you. 😉
Good luck!