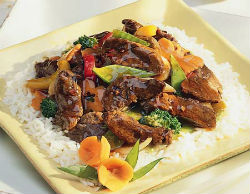 Here's my deal. I love wonderful home-cooked meals.
I even love cooking them.
But I don't always have the time to spend making our favorites to enjoy all week long.
That's why I like shortcuts and ways to maximize my work.
Leftovers.
I like leftovers. But only if I can spruce them up and make them more enjoyable than just a rewarmed meal.
Here's one of my favorite ways to achieve this seemingly impossible feat.
This amazing recipe for Honey Teriyaki Beef & Broccoli Salad is a great first meal. It's delicious and I try to make more than I think my family will eat in one sitting.
Then, the next night I grill up some favorite veggies – peppers, onions – on skewers and then warm up the leftover beef from the salad. I put the beef on the skewers with the veggies and we have a reimagined meal that took very little time.
I truly, truly believe great food doesn't have to take forever in the kitchen! Yum!
Photo courtesy of KansasCitySteaks.com.