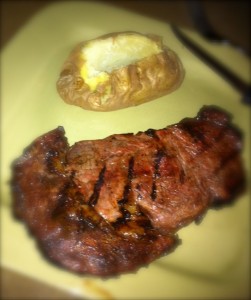 See that steak up there?
That's what love looks like.
My honey prepared that beautiful ribeye for me this weekend – complete with mood lighting, '80s music (because nothing says "love" like Tone Loc) and clearing of the dishes. All of the things I like.
That's why I made that photo look like it was in a dream sequence. It was.
After a week-full of "Can you do this?" and "Mom, where's my _____?" and "You owe me $XXX.XX" – I needed a display of affection.
Apparently, it showed.
Because the hubs planned this meal just for me.
Funny how food is a way to show love, but we know it's been that way for thousands and thousands of years. Who am I to question it now? It works for me.
And hey, I got a steak out of the deal. It's not exactly "The Notebook," but I'll pray for more nights like those – and I'll be thankful every single time!
Who in your life could use a steak?