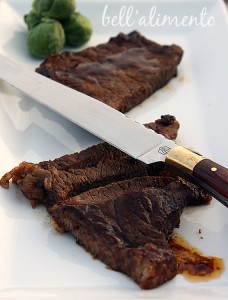 Simply gorgeous.
I love thin-cut steaks. Now I know I'm probably in the minority here, because most of you love a thick, red or pink in the middle, medium rare cut.
But I like thinly cut meat. Always have. Some call them "minute steaks." To me, it soaks in the marinade better and is just more flavorful.
This steak pictured above is wildly spicy with red pepper flakes, lemon juice, brandy and more. I mean, my mouth is watering right now.
Just think how that steak is going to soak in those amazing flavors. Oh, and when you bite into it – ecstasy!
Click on over to Bellalimento.com for the full recipe and more tantalizing photographs. After that, I'm pretty sure I know what you'll be cooking this weekend while watching some football.
Have at it!
Photo courtesy of Bellalimento.com.