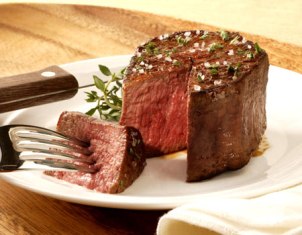 A marinade adds wonderful flavor and juiciness to any type of meat – whether poultry, beef, fish or other.
But did you know that some marinades are better suited to one type of meat over another?
Once you know the secrets of marinating by meat type, your steaks, burgers, chicken – you name it – will rise to a different level!
Check out this "Marinating 101" lesson from our friends at StartCooking.com.
It'll open your eyes to a whole new world of marinating. Try it this weekend!
Happy Memorial Day, everyone!
Photo courtesy of KansasCitySteaks.com.