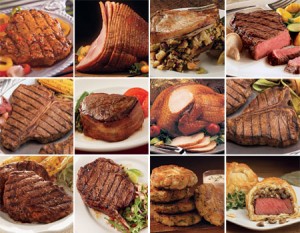 I'm thinking this might be for me. It might take all the guesswork out of meal planning and ensure that I have something tasty on hand at all times.
It's a 12 Month Plan with pretty awesome choices like Beef Wellington, T-bones, Prime Rib Roast, Bacon Wrapped Filet Mignon…
But…I am going to send them to myself. It's a gift to myself that will keep on giving.
Seems like a smart way to make sure I'm ready to go with some amazing menu items. I'm all about making life easier for myself this year and this seems like a great option.
Pre-planning. What a concept! I wish I had fully embraced it before. I might have saved myself a whole lot of heartache – and scrambling. Check it out here if you want to try it, too.
Here's to a less-harried 2012!!!
Photo courtesy of KansasCitySteaks.com.