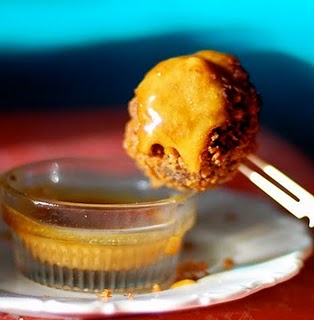 Fifteen people are coming over to watch somebody whoop up on somebody in Dallas this Sunday. You must feed them. Want to be the host or hostess with the mostest?
Think outside the wing box and serve these babies.
Mom's Meat Balls with a Devil's Own Dipping Sauce can be a fantastic appetizer – or if you're like me, you'll eat so many of them they become a meal. Oh, the beautiful dipping sauce!
Check out the full recipe here. It's really easy!
Have a great weekend, everybody! Enjoy the game!
Photo courtesy of LostPastRemembered.blogspot.com.