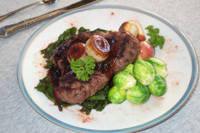 This clever idea comes to us from ChefElf and it cracks me up!
Here's what they say about Emergency Steak:
Do you ever run out of steak? You rummage around foolishly through your fridge to no avail. There is no steak to be found!
Do you happen to have ground beef, milk and Wheaties? For some inexplicable reason do you not want to eat hamburgers or have a bowl of Wheaties?
If you answered "Yes" to one or more of these questions, then I have the recipe for you: Emergency Steak.
The very idea of this is genius. Ground beef, milk, Wheaties, plus a few other ingredients form together to create a replacement – or "Emergency," if you will – steak.
Here is what the shaping process looks like: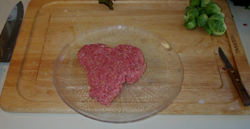 Here is how the "Terminator" would view the steak-making process: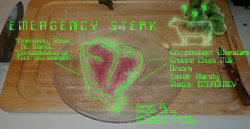 Hilarious, guys!
Now, go out and gather your ground beef, milk and Wheaties, and head over to LanceandEskimo.com for the full recipe and instructions.
It CAN'T be as good as the real thing, but in a pinch it just might do!
Excerpt and photos courtesy of LanceandEskimo.com.