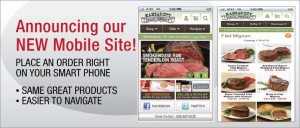 So THIS is where I get all my meat – the Kansas City Steak Company. My beloved ribeyes always taste better when they're from KC Steaks.
And I told you a while ago about their cool free iPhone app that has a steak timer and cooking instructions to help you make a perfect steak.
NOW, they have a new mobile website that makes it so, so simple to order steaks right from your phone.
Did you hear that? You can order steaks from your phone! What kind of world are we living in? I feel like we should all be wearing aluminum foil suits and driving around in flying cars like in "The Jetsons." This stuff is so cool!
Plus, that iPhone app now has this new mobile site incorporated right into it. I love it when people make things easier for me, don't you? It doesn't happen very often.
So, if you're on a smart phone, go to this website right now! Every steak imaginable is there. Even Kobe beef. Then, download the free app and all the tools you need for a dinner party that's da bomb will be right at your fingertips!
Technology certainly does rock!