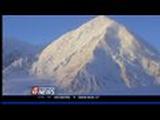 Lonnie Dupre is climbing up Mt. McKinley. I can't even imagine the intestinal fortitude that that feat must require. It boggles the mind.
He estimates the journey will take a month. A MONTH!
But as luck would have it, Lonnie has the best friends a man can have.
Last week they arranged for a package consisting of a steak sandwich, chips and red wine to be air dropped to him. On Mt. McKinley!
Dude must really love him some steak sandwiches if his friends are willing to go to such lengths. THIS is a true steak enthusiast – my hat is off to you, Lonnie Dupre!
Read all about Lonnie's trek – and steak escape – here!
Photo courtesy of KSTP.com.