Well, so, that is the question.
When a great cut of meat is involved do you sauce it or not?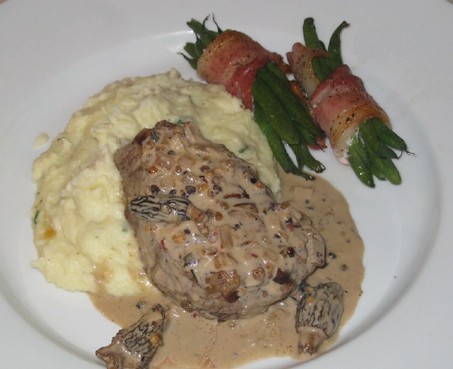 Denny Howell over at MLive.com gives us one option . . .
Sauce or no sauce?
That's a big question when you have a good cut of steak. I waiver back and forth depending on the occasion and the rest of the menu, I think a sauce can truly finish the flavors. This was the case on Saturday when cooking for a dinner party.
Now I'm not talking about A.1. Steak Sauce. I'm talking about classic finishing sauces; a Merlot reduction, a Mushroom sauce or Bearnaise. Saturday happened to be a Creamy Cognac Peppercorn sauce with Morel Mushrooms.
I really liked the sauce and the rest of the dinner guests thought it was great! Not only did it go well with the steak but I thought the flavor of it with the mashed potatoes was really harmonious.
Dinner Menu:
Grilled Romaine with Spicy Caesar Dressing
Mushroom Stuffed Filet Mignon with Cognac Peppercorn Sauce
Boursin Mashed Potatoes
Bacon Wrapped Green Beans
Serves 6
Grilled Romaine with Spicy Caesar Dressing
The Spicy Caesar dressing is very quick and easy. Just take your favorite creamy caesar dressing and add one or two finely chopped chipotles and about 1 Tbsp of the adobo sauce.
For the Grilled Romaine, cut the romaine heats in half lengthwise brush the cut side with olive oil, salt and pepper then place on the grill until slightly charred.
Serve with anchovies, croutons and grated fresh Parmigiano-Reggiano cheese.
Tri-Mushroom Stuffed Filet w/ Creamy Cognac Peppercorn Sauce
– (6) 6-8oz filet mignon steaks
– 1 1/2 oz. dried portabella mushrooms
– 1 1/2 oz. dried shiitake mushrooms
– 1 1/2 oz. dried chanterelle mushrooms
– 2 cups cognac (I used Hennessy)
– olive oil
– 1/2 Tbsp butter
– 4 cloves garlic, minced
– 1 cup shallots, minced
– 3 tsp. fresh thyme
– Salt and Pepper
Place all the dried mushrooms in a large bowl. Pour heated, either microwave or stove-top) cognac over mushrooms. Let stand 1.5 hours. Drain mushrooms, while saving liquid for the peppercorn sauce.
Chop the garlic, shallots and mushrooms. Heat olive oil and butter in a large saute pan over medium heat. Add shallots and garlic, saute 1 minute. Add chopped mushrooms, saute another 5 minutes. Add salt and pepper to taste. Remove from heat, cool and add fresh thyme.
Cut a small slit into the side of each steak and move the knife around in the middle to make a pocket. Press the cooled mushroom mixture into each steak. You can secure the pockets with toothpicks. Season the steaks with salt and pepper.
Outside – Prepare Grill. Arrange coals to have hot section to sear and medium section to finish cooking. Place steaks on hot section and sear for 1 minute, rotate 45 degrees and sear an additional minute, on each side. Move steaks to medium section and grill for 3 minutes on each side. Remove from grill and let rest 5 minutes covered with foil.
Inside – Preheat over to 350. On High heat place the steaks in a grilling pan and sear for 1 minute, rotate 45 degrees and sear an additional minute, flip the steak, sear for another minute, rotate 45 degrees and place in the over for 5-10 minutes depending on steak temp. I recommend Med-Rare.
Creamy Cognac Peppercorn Sauce
– 4 Tbsp. unsalted butter
– 4 Tbsp. chopped shallots
– 4 Tbsp. crushed green and pink peppercorns
– 1cup cognac-mushroom liquid (drained from mushrooms)
– 1cup heavy whipping cream
– salt and pepper to taste
– 4 Tbsp chopped fresh dill
– Optional
(18) morel mushrooms
In a saute pan over medium heat, melt 3 Tbsp butter. Add shallots and peppercorns. Saute until shallots are soft. Add cognac-mushroom liquid and cook until liquid is reduced by half. Add cream and simmer until sauce slightly thickens, add optional morel mushrooms. Turn off heat and slowly whisk the remaining 1/2 to 1 Tbsp of butter in the sauce, season to taste with salt and pepper and dill.
Spoon over the top of the filet mignon steaks set over the mashed potatoes. Make sure to get some morel's on each plate!
Boursin Mashed Potatoes
– 3 pounds potatoes, cut into 2-inch chunks (peeled if you don't want the skins)
– 1 package (5.2 oz.) Boursin Garlic & Fine Herbs
– 1/4 cup whole milk
– 1/4 cup heavy cream
– Salt and freshly ground black pepper
Boil the potatoes until tender, about 20 minutes. Drain the potatoes in a colander. In a bowl, mash the potatoes until they are smooth. Add the Boursin cheese and continue mashing until the cheese is thoroughly mixed. Add the milk and cream and beat in to the potato mixture and salt and pepper to taste.
Bacon Wrapped Green Beans
– 1 pound fresh green beans
– Olive oil
– Salt and pepper
– 1/2lb to 1lb Bacon
Preheat oven to 350 degrees F
Blanch green beans for 3 minutes. Toss them in olive oil and salt and pepper. Bundle about 5-7 green beans and wrap a piece of bacon around the bundle. Place in a roasting pan and roast for 10 to 15 minutes, until bacon is cooked.
Enjoy….
Photo and excerpt courtesy of Denny Howell at MLive.com.