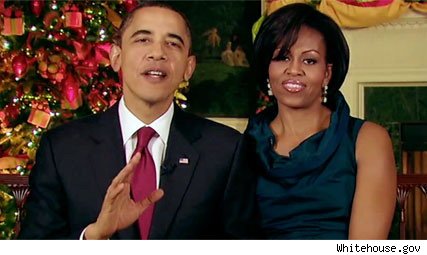 If you had a nice steak dinner on Christmas night, congratulations. You dined like a president!
The Obamas enjoyed a beautiful, juicy steak on Dec. 25th in Hawaii. I can't think of a more amazing way to spend Christmas.
Read on…
HE may be in exotic Hawaii, but President Barack Obama's culinary Christmas is decidedly mainstream.
The president will dine on steak, roasted potatoes and green beans, with pie for dessert, according to White House spokesman Bill Burton, who is traveling with the president on his holiday vacation.
Mr Obama arrived on Wednesday for his annual trip to the Aloha State, his birthplace. He is set to stay past New Year's reading novels, writing his State of the Union speech, and working in some golf with family and friends.
Mr Burton was mum on the president's Christmas Eve plans.
Now that's my kind of holiday! I love your taste, Mr. President!
This bodes well for 2011!
Read the story here. And happy new year!
Photo courtesy of Whitehouse.gov.