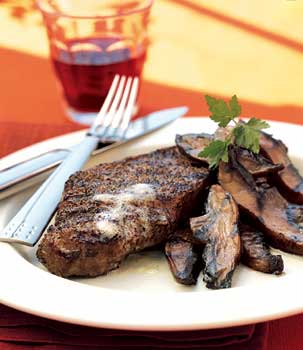 I absolutely love peppercorn on steak. It's so, so tasty and it brings out the steak's natural flavor.
And I really love when you get to crack it with a mallet. Hi-yahhhhh!!! (That's my fake karate chop sound.)
This recipe has it all!
Pepper-Crusted Steaks with Worcestershire-Glazed Portobellos
Ingredients
4 14- to 16-ounce New York strip steaks (each about 1 to 1 1/4 inches thick)
3 tablespoons black peppercorns, cracked with mallet
2 teaspoons coarse kosher salt
1/2 cup plus 2 tablespoons (1 1/4 sticks) butter
4 teaspoons Worcestershire sauce
1 1/2 teaspoons balsamic vinegar
1 pound portobello mushrooms, cut into 1/3-inch-thick slices
Preparation
Sprinkle steaks with cracked peppercorns and coarse salt. Let stand at room temperature 30 minutes.
Melt 1/2 cup butter in large skillet over medium heat. Stir in Worcestershire sauce and vinegar. Stir in mushrooms. Sprinkle with salt. Remove from heat.
Prepare barbecue (medium-high heat). Grill steaks until cooked to desired doneness, about 5 minutes per side for medium-rare. Transfer to plates. Top each steak with 1/2 tablespoon butter. Tent with foil to keep warm. Grill mushrooms until soft and beginning to release juices, about 3 minutes per side. Divide mushrooms among steaks and serve.
Test-kitchen tip:
To make crisscross grill marks, place steaks on the grill pointing to ten o'clock. Halfway through cooking on one side, turn steaks to point to 2 o'clock. Turn steaks over and repeat.
Photo and recipe courtesy of epicurious.com.