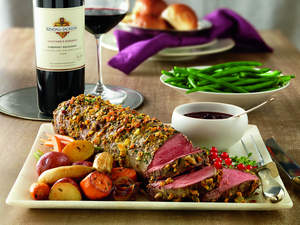 So, one holiday is down.
One to go.
Now's the time to start planning for an amazing holiday meal that will surpass all others.
Maybe this one will feature a beef tenderloin so unique they'll be begging you to repeat it year after year. Like the Pistachio-Crusted Tenderloin With Cabernet Sauce pictured above.
Wow.
Click here for more incredible recipes like petite steak sandwiches — AND wine pairings! Now that will make the meal – and your next holiday – absolutely complete.
Photo courtesy of Kendall-Jackson Winery via Marketwire.com.