Yes, please.
At BLT Steak in NY (and at many other yummy restaurants) they bring you delicious, soft, warm popovers before your meal.
That's definitely something I can get onboard with.
Check these out. (That one in front kind of looks like an elephant.)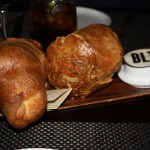 And since they include the recipe for you with the basket, I thought I'd share it here with you.
Try these with your next steak dinner. Invite people over and wow them with your graciousness. It goes a long way!
Popovers From BLT Steak
(Makes 12 popovers)
Ingredients
4 cups milk, warmed
8 eggs
4 cups flour
1 1/2 heaping tbsp salt
2 1/4 cups grated gruyere cheese
Popover pan
Preparation
Place the popover pan in the oven. Heat the oven and pan to 350 degrees F. Gently warm the milk over low heat and set aside. Whisk the eggs until frothy and slowly whisk in the milk (so as not to cook the eggs). Set the mixture aside.
Sift the flour with the salt. Slowly add this dry mixture and gently combine until mostly smooth.
Once combined, remove the popover pan from the oven and spray with non-stick vegetable spray. While the batter is still slightly warm or room temperature (definitely not cool), fill each popover cup 3/4 full. Top each popover with approximately 2 1/2 tbsp of the grated gruyere.
Bake at 350 degrees F for 50 minutes, rotating pan half a turn after 15 minutes of baking. Remove from the oven, remove from the pan and serve immediately.
Recipe courtesy of BLT Steak.