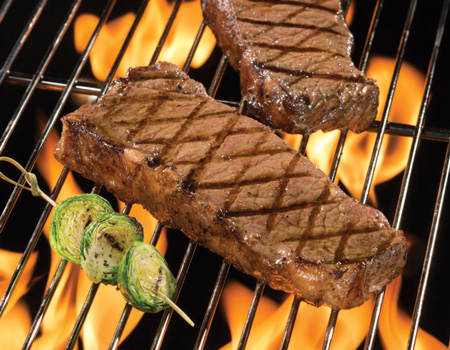 Sunny barbecues in the backyard – my happy place! And Memorial Day is the quintessential "barbecue in the backyard" day.
It's almost upon us, so let's get our ducks in a row and plan some amazing meals out on the patio with these delicious Memorial Day recipes!
Steaks are first up on my list. But the long, leisurely weekend gives us a bit more time to explore something new so why not go for this Memorial Day recipe for Grilled Kansas City Strip Steak and Blue Cheese Mashers? While you're grilling steak, get your helpers to dive into making the mashers. Everybody wins!
For us, burgers are ALWAYS on the sunny holiday menu. This time, we're going to mix it up a bit with this Tropical Burger recipe. Pineapple and mango chutney will make you feel like you're in the tropics!
It's a long weekend, right?
Serve it with this Fresh Cilantro Picnic Salad – perfect for a group of hungry holidaymakers!
Enjoy good food and relaxation this Memorial Day weekend – I know I will!