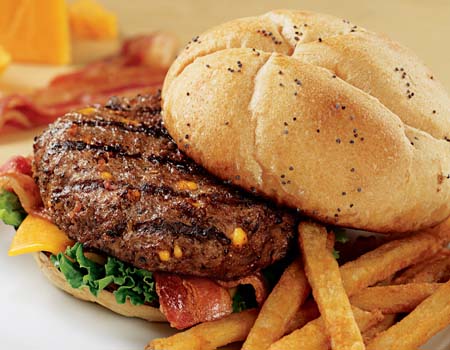 Burger buns don't just come in the white bread variety anymore. Although, that's still a fantastic option and one of my faves.
We first began branching out with the old sesame seed bun and that really got our taste buds thinking.
These days, there are so many burger buns to choose from. Here's a list of some of the top contenders:
CIABATTA
This Italian white bread is made from wheat flour and yeast and it's light, not heavy. It has only been around since 1982 so it's a relatively new sensation.
BRIOCHE
Puffy, with a golden, flaky crust, its origins are in the French pastry realm. Made with eggs and butter in the mix, this bun is rich and tasty.
PRETZEL
This bun is baked in the traditional pretzel knot shape and comes to us from Germany. Love soft pretzels? You'll adore this great alternative to the ordinary.
Peruse your local bakery for more options and find one that makes your heart sing!
Want to mix it up a bit? Then try one of these buns on the grill next time it's burger time. Slice it in half, put the inside down on the grill and leave for 10 seconds. You'll have a toasty, tasty bun for that delicious burger!
Photo courtesy of KansasCitySteaks.com.