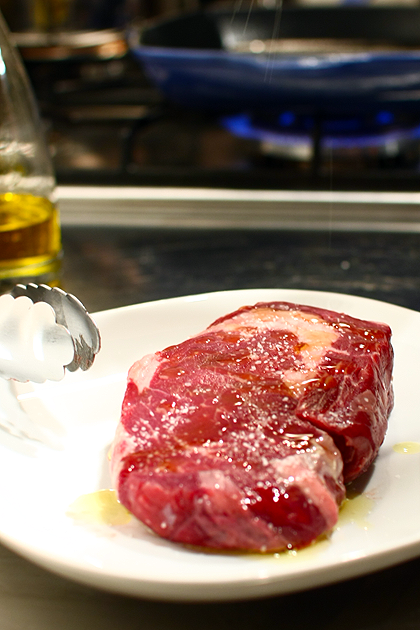 That is one gorgeous cut of beef!
Ribeye is my favorite and it's blogger Melody's fave too!
Here's her post over at BouchonFor2.com with an amazing ribeye recipe.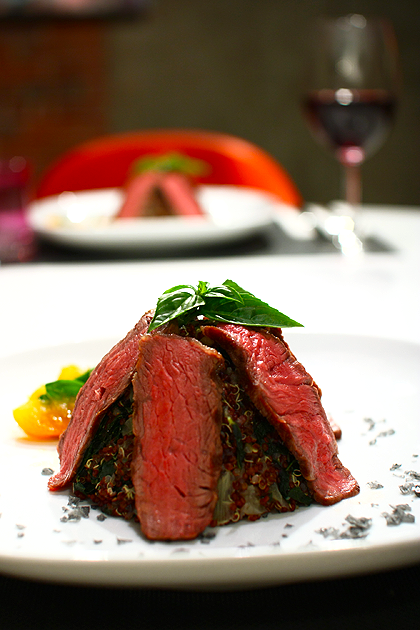 Thyme-Infused Red Quinoa with Lemon-Mustard Black Kale with Ribeye
Ingredients
2 cups red quinoa
2 cups vegetable or chicken stock
2 bunches of kale, aprox 1.5 lbs.
1 fennel bulb, white parts only, diced
3-4 garlic cloves, minced
1 lemon, zested and juiced
1/4 cup grainy mustard
1 bunch thyme
Olive Oil, S&P
Preparation
Quinoa: Place in a fine sieve and rinse under cold water until water runs clear. Initial red and foamy water is normal.
Thyme: Tie the sprigs together with twine or spend 10 minutes picking them out like I did.
Stock: Bring to a boil.
Kale: Strip the leaves from the stalk by grabbing the stalk by the bottom and pulling the leaves towards the tip. Chop the leaves into bite-sized pieces.
Directions
In a large pot, sweat the fennel on medium heat with the garlic in some olive oil. When the fennel is tender, add the quinoa and continue to cook for 2 minutes.
Add the hot stock, 2 tsp. of salt, and thyme bundle, cover with a lid, and cook on low heat for 15-20 minutes.
The quinoa is done when all the liquid is absorbed and little white curls are released. When ready, remove the thyme, fluff through with a fork, cover, and keep warm.
In a deep skillet, heat up some olive oil over medium-high heat. Add the kale in by handfuls and welt it down for about 3 minutes. Season with salt and pepper. (Unlike other leafy greens, kale does not release much liquid.)
When the kale is tender, stir in the mustard and lemon zest + juice.
Toss the kale into the warm quinoa.
Serve with beef below.
Serves 4 as main dish.
Ribeye is my favorite cut for steak. A pristine piece is distinctly flavorful, tender yet toothsome, and releases the proper amount of fatty juices with each bite.
To cook the proper steak is to not fear, over- think, or complicate it.
Rub the slab down with some oil and sprinkle generously with sea salt.
Sear both sides quickly in a hot skillet, transfer to a baking pan, and a finish it in hot oven (400 °F) for several minutes.
A rare steak will feel soft and remain slightly indented after a poke, while a medium rare steak will spring back gently.
Use a meat thermometer if you are not confident to test its doneness by touch initially. For a medium rare steak, remove it at 125-130 °F.
Remember that the residual heat will continue to cook it during the resting time.
Cover the meat gently with foil and allow it to rest until the moisture re-absorbs (8-10 minutes).
Slice it thinly against the grain.
Refrain from drooling.
Lay it over the Quinoa and garnish with a sprig of basil.
Serve with a ripe, freshly sliced tomato.
No sauce, no jus, maybe just a dollop of tangy horseradish mustard.
Large, crunchy flakes of Black Lava Salt can't hurt though!
Recipe and photos courtesy of BouchonFor2.com.