The conclusion of our Memorial Day carnival of carne came in the form of some amazing barbecue ribs.
We allowed them to share the grill with the steakburgers. They earned it.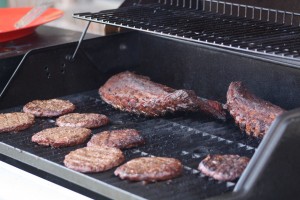 See what I mean? Those ribs were awesome. We dipped them in some spicy barbecue sauce and all was right with the world.
And the steakburgers? Well, they rocked the house. I don't think we had any left.
It's a sad day around here when we don't have leftovers from a HUGE cookout.
But that just tells me it was a job well done! 🙂