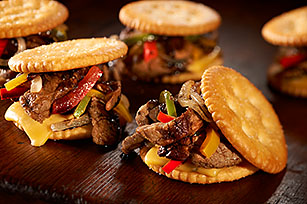 Don't these look unusual? And heavenly?
Creative genius Chef Guy Fieri gives us this incredible recipe for Cheese Steak Sliders made with Ritz crackers. How does he do it? What creativity!
These are made with ribeye steak sliced very thinly. I'm hooked already. What a fun treat to try for your Super Bowl party this weekend!
Get your ribeyes here and throw the best Super Bowl party ever!
Check out the full recipe here!
Photo courtesy of KraftRecipes.com.