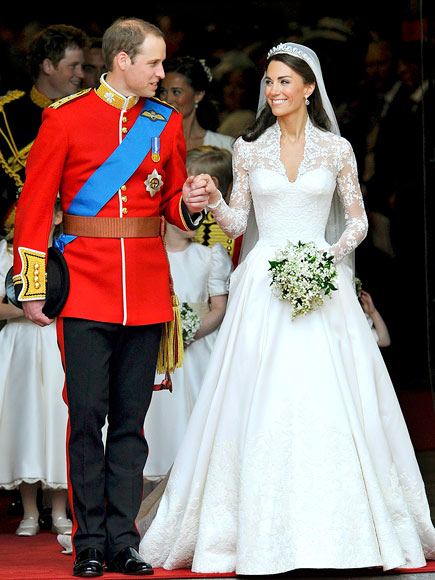 And if it's good enough for them, we're in pretty good company,right?
Did you get into the royal festivities today? Who doesn't enjoy seeing a young couple in love?
But, being a foodie, I really wanted to know what they were going to eat after the ceremony.
Here's the lineup:
Cornish Crab Salad on Lemon Blini
Pressed Duck Terrine with Fruit Chutney
Roulade of Goats Cheese with Caramelised Walnuts
Assortment of Palmiers and Cheese Straws
Scottish Smoked Salmon Rose on Beetroot Blini
Miniature Watercress and Asparagus Tart
Poached Asparagus spears with Hollandaise Sauce for Dipping
Quails Eggs with Celery Salt
Scottish Langoustines with Lemon Mayonnaise Pressed Confit of Pork Belly with Crayfish and Crackling
Wild Mushroom and Celeriac Chausson
Bubble and Squeak with Confit Shoulder of Lamb
Grain Mustard and honey-glazed Chipolatas
Smoked Haddock Fishcake with Pea Guacamole
Miniature Yorkshire Pudding with Roast Fillet of Beef and Horseradish Mousse
Gateau Opera
Blood Orange Pate de Fruit
Raspberry Financier
Rhubarb Crème Brulee Tartlet
Passion Fruit Praline
White Chocolate Ganache Truffle
Milk Chocolate Praline with Nuts
Dark Chocolate Ganache Truffle
Did you spot it? Yes, there was some beef in that menu that I would have run straight for. You know, had I been invited and all.
Come to think of it, why wasn't I invited?
Oh, well, I was busy today anyway. Congrats, Duke and Duchess!
Photo courtesy of Toby Melville/Reuters/Landov via People.com.
Menu courtesy of PerezHilton.com.