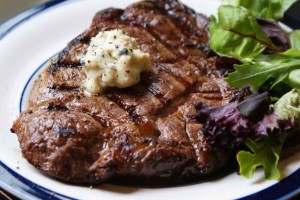 It's election season. The movers and shakers (or, em steakers) are in full force.
And what meal signals strength, power, skill, plans, confidence?
STEAK.
Yes.
This is a news story about Rick Perry and Rupert Murdoch and the headline focuses on WHAT THEY ATE during a recent meeting.
Why is that important? Why isn't the headline about what they talked about? Perry's plan IF HE BECOMES OUR PRESIDENT?
What they ate says something about them. Says something about their meeting. Steak is power.
Interesting.
What if they dined on chicken salad? Nothing wrong with chicken salad. But what message does that send?
Click here to read the entire story.
Photo courtesy of Blogs.Babble.com.