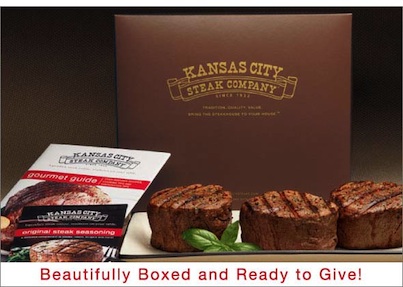 Like your boss a lot (or just want to keep on her good side)?
How about a thoughtful gift for today – Boss's Day – that fills the stomach?
If you really want some brownie points, give some lovely gift-boxed steaks. Male or female, your boss will love 'em!
Maybe a beautiful dessert is more his or her style? Try these delicious goodies.
Did you wait until today like most of America to think about a gift? No sweat! Try an E-gift certificate.
It'll arrive in your boss's inbox and no one will be the wiser. Except you. YOU are the brilliant one who got your boss a gift.
Happy, happy day, bosses everywhere!
Photo courtesy of KansasCitySteaks.com.