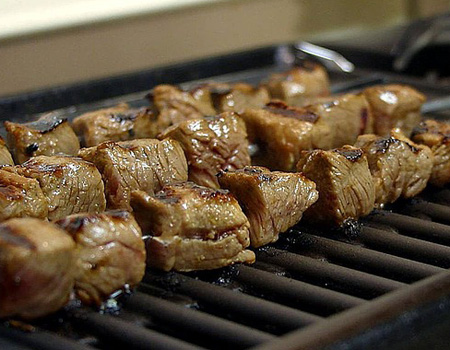 Kabobs are such fun because they allow you to get really creative on the grill.
For me, beef is always a part of a kabob. It's just the other elements that change.
I like to use sirloin steak (Top Sirloin, to be exact) or beef tenderloin tips. They really work well on a skewer. Filet mignon cut into bite-sized pieces also works beautifully.
Want some extra flavor on your beef kabobs? Try this recipe for Pistachio Crusted Steak Kabobs, then add whatever veggies you like to your skewers – corn, onions, peppers, anything!
Have fun kabobing! Kabobling? Kabobicizing…
Pistachio Crusted Steak Kabobs
Ingredients:
1 tsp. garlic powder
1 tsp. onion powder
1/4 tsp. black pepper
1 tsp. seasoned salt
1 tsp. sugar
1/4 cup finely crushed pistachios
4 Top Sirloin Steaks, each cut into 8 cubes
16 (10 in.) wooden skewers, soaked in water for 30 minutes
Directions: Place the first 5 ingredients into a ziplock freezer bag. Shake to combine. Place Top Sirloin Steaks cubes into ziplock bag, a few at a time, and shake to coat completely. Thread 4 steak cubes onto each skewer. Grill kabobs over medium heat for 6 to 8 minutes or until done. Remove from grill; quickly roll kabobs into finely crushed pistachios. Serve immediately.