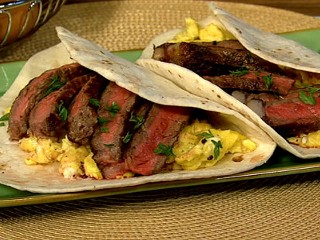 If ever there was a breakfast food that could double, triple as lunch and dinner – this is it.
Take that leftover steak or start from scratch and create a steak and egg taco to top all tacos. Ever.
Filled with protein to fuel your day, this taco grande combines skirt steak, eggs, cilantro, hot sauce and a host of other flavor-infused goodies.
It's the perfect hunger-buster for when you've slept too late for coffee and toast and you need something heartier.
See the full steak taco recipe here from our friends at "The Chew." That Michael Symon knows his stuff.
Enjoy!
Photo courtesy ABC/The Chew.