In case your mom hasn't reminded you yet, Mother's Day is this Sunday.
Yikes!
So why not spend a little time cooking her a meal you know she'll love?
Bonus:  YOU will love it, too. But, seriously, that's just a bonus. This is for her.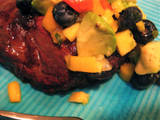 Try a little something different with this Steak with Mixed Fruit Salsa recipe, plus a full dinner menu from bread to sides to dessert.
This steak recipe combines a fruity salsa (very imaginative) with a hot, juicy steak. It's really something to get the senses going – and so fresh, too!
Click here for the full menu details from our friend Linda Larsen at Busy Cooks. Your mom will love this Mother's Day Steak Menu!
Photo courtesy of Linda Larsen via BusyCooks.About.com.