This. Looks. So. Tender.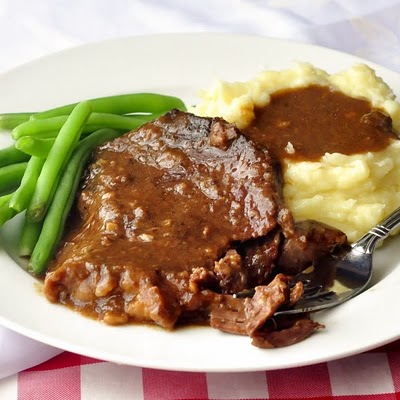 I want to eat this right now. This sirloin steak is browned and then put in a roasting pan with other goodies, then placed in the oven for a couple of hours.
What a perfect winter pick-me-up! This one will make your whole house smell amazing for hours. To me, this says, "Welcome home!" Even if you've been there all day.
Stewed Steak
Serves 4-6
3 pounds of sirloin, cross-rib or round steak (or similar cut)
1 cup flour
2 tsp ground thyme
2 tsp fresh ground nutmeg.
Season the steaks with salt and pepper. Mix together the flour, thyme and nutmeg. Dredge the steaks in the flour mixture, then brown them on both sides in a little canola oil in a heavy skillet over medium high heat. No need to cook them fully, just brown the surfaces well. Drain the excess oil from the skillet and deglaze the pan with a little beef stock before adding it to the steak in the roasting pan.
Place the browned steaks in a covered roasting pan and add:
5-6 cups of good beef stock (low sodium stock if you are using sore bought)
NOTE: You can substitute 1 cup of broth with a cup of red wine for an even richer gravy.
3 cloves minced garlic
4 tbsp Worchestershire Sauce
1 tsp ground black pepper
Cover and slow cook the steaks in the oven at 300 degrees F for 2-3 hours or until the meat is very tender and begins to fall apart. The flour that was used to brown the steaks helps to thicken the gravy as it cooks. I like to skim any surface fat off the gravy before serving. Serve with roasted garlic mashed potatoes and steamed vegetables.
Recipe and photo courtesy of RockRecipes.Blogspot.com.