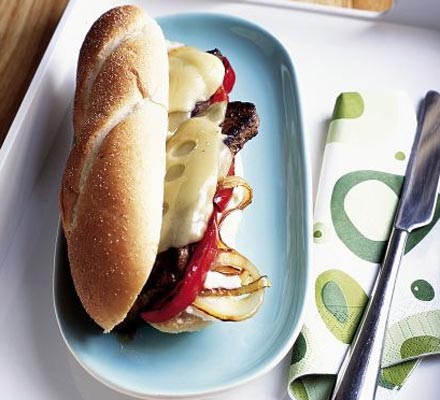 THIS is way fun! A steak sub is a great way to combine all the flavors you love — just the way you like them.
Want cheese? Add it!
Want mayo? Spread it on!
Want a tomato? Put it in there!
The possibilities with a steak sub are endless. You can even change up the type of bread you use.
Here's a recipe to get you started, but customize it to your liking — and have fun!!!
Summer Steak Subs
Ingredients
2 sub rolls or mini baguettes
1 tbsp mayonnaise or horseradish sauce
1 tbsp vegetable oil
1 small onion, finely sliced
1 red pepper , deseeded and finely sliced
2 thin frying steaks
2 slices gruyère cheese
Split the rolls down the middle, spread with the mayonnaise or horseradish, then set aside. Heat half the oil in a large frying pan and fry onions and peppers together for 5-10 mins until soft and beginning to color, then spoon into the rolls.
Heat remaining oil in the same pan, season the steaks and cook for 1 min until browned. Flip steaks over, top with the cheese and continue to cook until the steak is cooked to your liking and the cheese has melted. Lift the steaks into the rolls and tuck in.
Recipe from Good Food magazine, June 2006.
Thanks to BBCGoodFood.com for the photo and recipe.