Cold weather brings out the snugglebunny in me. And a must is warm food to take the chill off.
Isn't this steak sandwich/tomato soup combo to die for?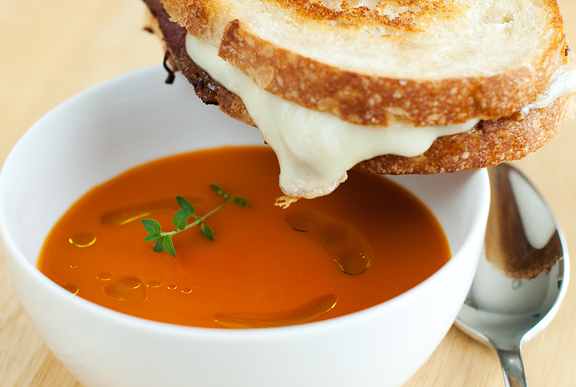 Winter weather means lots of homemade meals and sharing good food with people you love.
Oh, and it means lots and lots of leftovers. This sandwich makes great use of your steaky leftovers — and creates a whole new meal!
Grilled Steak Sandwich
2 tsps vegetable oil
1 medium yellow onion, sliced thin
salt to taste (optional)
2 slices bread, buttered on one side (I like the sourdough)
1-2 slices cheese (I like the Swiss)
leftover steak, sliced thin
In a medium sauté pan, heat vegetable oil over medium-high heat. Add onions and sauté until translucent and golden (about 5-10 minutes depending on the heat and how impatient you are). Add a little salt if desired. Remove from heat and set aside. You can either use the same pan (cleared of onions) or another flat-bottomed pan and place a slice of bread, buttered-side down on medium heat. Layer the cheese evenly on the non-buttered side of the bread. Then layer the steak over the cheese. Top with onions and set the second slice of bread non-buttered side down on the sandwich. The cheese will begin to melt in a few minutes. Watch that the base bread doesn't burn during the cheese-melting phase. When the bread is crisp and golden, flip the sandwich to brown the other side and then serve. Makes one great sandwich.
Photo and recipe courtesy of UseRealButter.com.