This meal looks so, so gorgeous, it's almost too good to eat.
All right, it's NEVER too good to eat. I can always bring myself to eat it.
But these steak tacos are be-uu-ti-ful . . .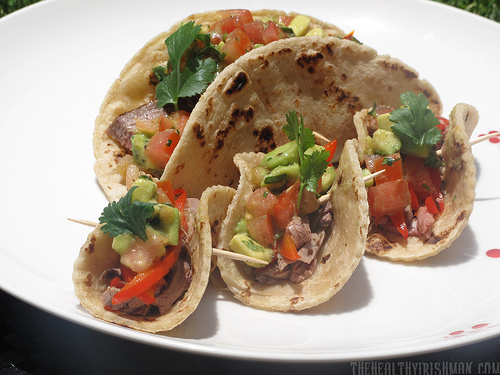 Here's the brilliant recipe created by The Healthy Irishman (he's my new BFF even though we've never spoken, written or laid eyes on each other — it's just something spiritual, steaky even.)
SIZZLING SUMMER STEAK TACOS
RECIPE:
Serves 4
1 lb flank steak
1 red pepper – sautéed
8 corn tortillas (2 per serving)
STEAK MARINADE:
1 tsp smoked paprika
1 tsp chili powder
1 lime – zested
¼ cup olive oil
2 tsp salt
Mix marinade ingredients together and rub into steak. Marinate covered in the fridge from 4 hours to over-night.
AVOCADO SALSA:
1 large avocado – diced
1 Roma tomato – diced
1 tbsp fresh cilantro – chopped
squeeze fresh lime juice
S&P to taste
DIRECTIONS:
Preheat your grill on high.
Remove steak from fridge 30 minutes before grilling to let meat return to room temp.
Once grill is hot, cook steak for 3-5 minutes each side for medium-rare to medium.
NOTE: Very important to let the cooked meat rest for 10 minutes after grilling before carving. This lets the juices redistribute evenly back into the meat and not all over your cutting board.
While the meat is resting, mix all the salsa ingredients together and refrigerate.
TIP: When carving, slice thinly on the bias against the grain. (The grain being the lines you will see on the meat) Always cut across these otherwise the meat will taste chewy!
To assemble: place some sliced steak in each warmed tortillas along with some red pepper and finish with a nice dollop of the avocado salsa.
Thanks to TheHealthyIrishman.com for the photo and recipe.