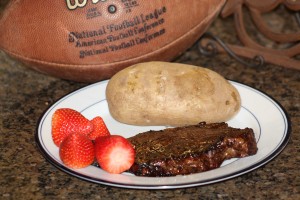 Super Bowl Sunday is a victory for meat eaters everywhere.
I love the day 'cause it's an excuse to cook something yummy.
What's that you say?  I don't need an excuse?  Oh yeah.
Well, here's how we spent the commercial breaks in the second quarter . . .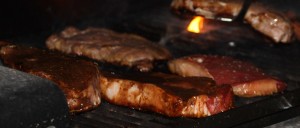 We may have missed a few great commercials, but it was well worth it. I already know which beer I want to drink and which hosting company to use, thank you very much.
Our group on this day was a persnickety one. So our marinades had to be kept separate. We had three distinct flavorings going on. Heaven forbid the Teriyaki mix in with the spicy Worcestershire bunch.
Just don't tell anyone we used the same spatula to turn them all on the grill.
From the strips to the ribeyes, to the filets, our group was happy no matter who won the game.
One slight mishap did threaten to ruin the fun, though. That football in the top photo? Two minutes after that shot was taken, it was a major player in an incident resulting in an ice pack and some Children's Motrin.
But that's football for you.  You gotta be tough.