I don't know about you but when we're grilling steaks we usually "eye it" to figure out when our steaks are done.
I like mine a bit more well done than my husband does so he takes his off the flame earlier.
Sometimes, our method doesn't give us the results we want. Imagine that.
Thus, the need for Mini Steak Thermometers. . .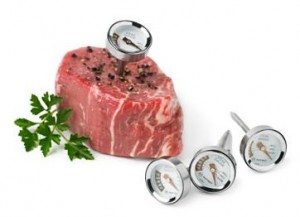 Aren't they cute? These babies tell you exactly how well done your steak is. In real time!
In retrospect, maybe guessing is not the best cooking technique I've ever employed. I'm learning to let the tools be my friends instead.
Try 'em and let me know what you think!
Photo courtesy of www.smithandhawken.com