It's New Year's Eve and we are about to embark upon a new decade. Can you believe that?
So today I'd like to share with you my Top 10 Favorite Blog Posts of 2009. It's been a year of great food and great adventures for me and my family. Thank you for coming along with us.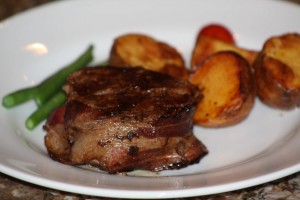 And . . . 2010 is full of promise. If I had a crystal ball, I'd see lots and lots of steak in my future. And yours.
But that's just a guess.
Enjoy — and Happy New Year!!!!
TOP 10 FAVORITE STEAKY BLOG POSTS OF 2009
1.  Jan. 3 — The Tenderest Tenderloin
2.  Jan. 23 — Here We Go Kabob-ing
3.  Feb. 19 — Three's Company
4.  Feb. 27 — Enchilada Steak Pie Recipe
5.  Apr. 8 — Beef Recipe:  Prime Rib Roast and Yorkshire Pudding
6.  Jun. 26 — Pizza. Beef. Scrumptious.
7.  Jul. 22 — Beefy Sliders
8.  Sept. 25 — Dreamy Meatloaf
9.  Oct. 6 — Steak and Grilled Broccoli
10.  Dec. 10 — O Steaky Night