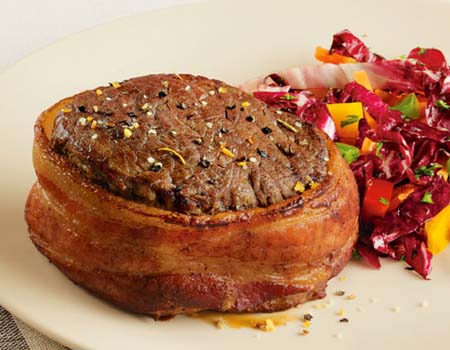 Oh, sweet spring! The seasonal flavors are what I live for!
There's just something about spring that's, well, refreshing.
Carrots! Asparagus! Blueberries!
So many fresh spring ingredients to incorporate into, say, a Porterhouse steak to springitize it. (I know it's not a word, but stay with me.)
Instantly turn steaks into springtime fare with citrus accents. So delicious!
Try this recipe for Lemon Herbed Top Sirloin to really ring in the springtime. It's filled with fresh herbs and refreshing lemon. Just what spring is all about!
Ingredients:
4 Top Sirloin Steaks
1 tbsp. lemon zest
1 lemon, juiced
1 garlic clove, minced
1/2 tsp. dried thyme
1/2 tsp. dried parsley
1/2 tsp. dried basil
1 tsp. Worcestershire Sauce
1/2 tsp. kosher salt
1/8 tsp. black pepper
1 tbsp. olive oil
Directions: Combine all of the ingredients in a medium sized bowl. Mix well. Rub Top Sirloin Steaks with mixture. Allow steaks to marinate for 30 minutes to one hour. Place the steaks on a preheated grill. Sear on each side on high heat for 2 -3 minutes. Turn down the heat and cook to your desired doneness.
Servings: 4