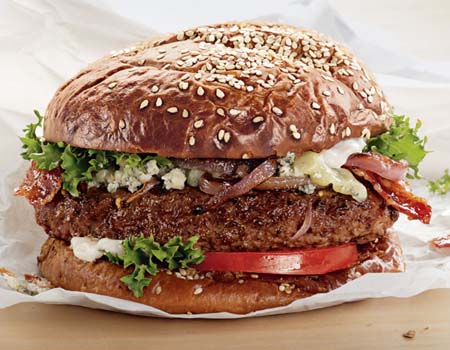 Summer is burger time. And with that comes the age-old question — What shall I put on my burger?
Some folks have their tried-and-true favorite steakburger toppings and they stick with that. Every time.
Mustard, lettuce, cheese.
Others get adventurous and try something different every once in a while.
Sriracha. Avocado. Maybe some Tabasco and bacon.
Possibly something like the BBQ Bacon Steakburger seen above.
Delicious!
But whatever you choose to top your burger with, it's a very personal decision. Let no one force you into the same little box every time. Branch out! Do your own thing with your burger!
So next time you're ready for a new burger experience, here's a couple of fun burger recipes to try that definitely do not smack of the ordinary. Enjoy!
Honey-Mustard Dipped Steakburgers with Apple Relish
Ingredients:
4 (4 oz.) Steakburgers
salt and pepper
1 tbsp. olive oil
1 tbsp. butter
1 clove garlic, minced
2 tbsp. Dijon Mustard
3 tsp. honey, divided use
1 braeburn or red delicious apple; cored, quartered, and thinly sliced
1 tbsp. fresh lemon juice
1 tbsp. fresh basil, chopped or 1 tsp. dried
1 tbsp. sweet onion, minced
1/2 tsp. freshly grated ginger root
Directions:Before cooking steakburgers, make apple relish.

For Relish:
Combine apple, lemon juice, basil, onion, grated ginger, and 1 tsp. honey; mix well. Refrigerate.Heat large heavy skillet over medium-high heat. Add olive oil and butter. Season Steakburgerswith salt and pepper. Place in skillet and sear both sides. Cook until done (about 3 minutes per side). Remove and keep warm. Add garlic to skillet; stir and cook just until softened do not brown.Remove from heat. Stir in mustard and 2 tsp. honey; mix well. Dip steakburgers into mustard sauce; coating one side. Place on serving platter, coated side up. Place a tablespoonful of apple relish on each steakburger and remaining relish on platter around brugers. Drizzle any remaining mustard sauce over burgers.
Servings: 4
Source: KC Steak Company
Hawaiian Steak Burgers
Ingredients:
1 cup pineapple juice
1 cup orange juice
1 cup soy sauce
1 cup brown sugar
1 tsp. honey mustard
1/4 cup sesame seeds
1 small red onion, minced
3 cloves garlic, minced
6 (4 oz.) Classic Steakburgers
Directions: Combine pineapple juice, orange juice, soy sauce, brown sugar, honey mustard, sesame seeds, minced red onion, and minced garlic. Whisk ingredients and pour into food storage with lid. Marinate Classic Steakburgersin container, refrigerate for 4 hours.Prep time for making marinade: 15 minutesType of Meat/Cut: Classic Steakburgers
Source: KC Steak Company