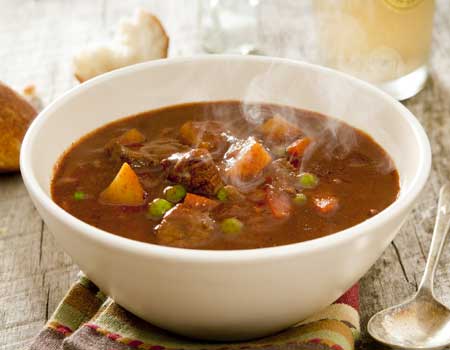 Need something to really warm you up this time of year?
A good homemade soup will do the trick!
I like to make mine with different cuts of steak. Sirloin steak is especially good and holds up well in soup. And beef tenderloin tips are the perfect size for adding bite-sized bits of goodness to your creation.
This homemade soup recipe is exactly what I need right now.
Beef and Mushroom Soup
Ingredients:
1 lb. package Beef Tenderloin Tips
2 onions, minced
4 cups fresh mushrooms, minced
2 cloves garlic, minced
1/2 brandy or sherry
4 oz. dried shitake mushrooms
4 oz. dried morel mushrooms
3 cups, heavy cream
2 tbsp. butter
2 tbsp. flour
6 cups beef stock
salt and pepper
Servings: 8
Directions: Bring six cups of water to a boil and pour over dried mushrooms. Let stand ten minutes. Strain mushrooms, chop and reserve liquid. In a heavy bottomed stock pot, sauté Beef Tenderloin Tips in butter, remove and reserve. Add onions and sauté. Add fresh mushrooms and cook for five minutes. Add garlic and cook for three more minutes. Add flour and cook for five minutes. Deglaze pan with brandy. Add stock a little at a time and until soup becomes smooth. Add reserved mushroom liquid and reduce by half. Puree soup in a blender or with a stick blender. Add beef, cream and reconstituted mushrooms and season to taste.
This recipe uses beef tenderloin tips and just thinking about this soup makes my mouth water!
Treat yourself and your family to a tummy-warming homemade soup!