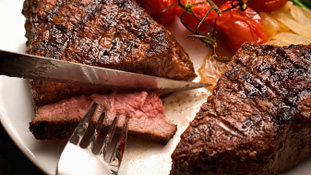 The Travel Channel is tackling that most sacred of subjects:  STEAK!
They're visiting steakhouses all over the U.S. and illuminating the pros and cons of each one. From New York's Peter Luger's to the Big Texan in, well, Texas, you'll get an idea of what's in store for you at each one.
BUT . . . of course, TV can't give you a taste. My advice? Check them out and copy the styles you see on the tube in your own kitchen.
I'm crazy like that.
Photo courtesy of TravelChannel.com.