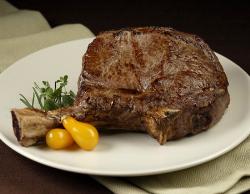 I like to give my dad something manly every year for Father's Day:  gorgeous, satisfying steak. (Clarification:  I don't feel manly when I eat MY steak, but the kind my dad likes, well, is pretty manly.)
Nothing makes his eyes light up more than when he discovers he will soon be one with a steak. So why wouldn't I want to give that to him on a day to honor Dad?
I'm going to cook mine a lovely, thick, Kansas City strip steak. It's his fave.
But you could check out these Father's Day gift options and give your Pops a gift-boxed steak combo, some USDA Prime beef or even a gift card to let him choose what strikes his fancy.
Either way, your dad will know you love him. 'Cause where I come from, nothing says love like a great steak.
Happy gifting, everybody!
Photo courtesy of KansasCitySteaks.com.