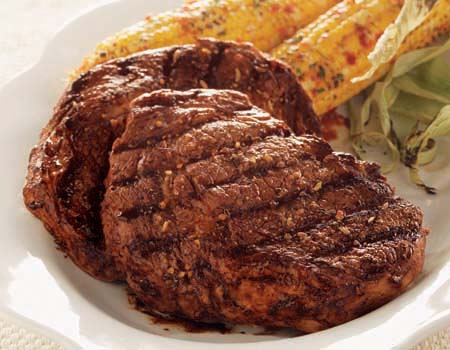 We're all out there grilling up a storm. After all, it's summertime!
Delicious beef is a given, but what else are you complementing it with? We've got to take advantage of summery favorites at this time of year – things like summer squash, zucchini and corn on the cob.
To die for.
When putting these delicate veggies on the grill, we've got to be careful to treat them just right. For instance, cutting the SQUASH into 1/4-inch to 1/2-inch thick horizontal slices will ensure they don't fall through the grill. Start them off in a pan with olive oil, garlic cloves and salt and pepper. Then finish them off on the grill – about 5-10 minutes per side until they're YOUR desired tenderness. Be sure to brush them occasionally with the oil mixture for great flavor.
On the ZUCCHINI, this recipe is a must for perfection every time:
Grilled Zucchini Medley
Ingredients:
1 lb. zucchini
1/2 lb. yellow squash
1 red pepper
1 medium onion, sliced vertically into thin strips
1 clove of garlic, minced
1/4 tsp. pepper
1/4 tsp. salt
2 tbsp. vegetable oil
Directions: Cut zucchini, yellow squash and red pepper in matchstick size pieces. On one half of a 22" x 18" sheet of heavy-duty foil, layer vegetables in order listed. Sprinkle with salt & pepper and drizzle with oil. Fold top half of foil over vegetables to meet bottom edge. Grill over hot coals for approximately 15 minutes, turning every 5 minutes.
Source: KC Steak Company
For great CORN ON THE COB, remove husks and silk, rinse with cold water and wrap in foil. Place on the grill for about 15-20 minutes until tender, turning occasionally. Create a butter mixture to your taste – add garlic, salt and pepper, Parmesan cheese, parsley – whatever your fancy. Then spread liberally on each ear of corn after grilling. YUM!
And then try these VEGGIE KABOBS…
Vegetable Kabobs

Ingredients:
Marinade:
1/2 cup light corn syrup
1/4 cup oil
1/4 cup cider vinegar
1 tbsp. minced parsley
1 tsp. salt
1 tsp. dried basil
1/8 tsp. pepper
1 clove garlic, minced

Kabobs:
2 large green peppers
3 small zucchini, sliced 3/8 inch thick
1 qt. fresh mushrooms
1 large red onion
Can of potatoes
Directions: Stir together marinade ingredients and pour over vegetables. Toss to coat. Cover and marinade several hours or overnight. Soak skewers in water for 30 minutes. Put vegetables on skewers and broil 6 inches from source of heat for 10 minutes, turning and brushing occasionally with marinadeServes 8-10 skewers.
Source: KC Steak Company
With these tips and recipes at your fingertips, you CANNOT go wrong at the grillside this summer! Enjoy!
Photo and recipes courtesy of KansasCitySteaks.com.