Have you noticed the new Steak Widget on this site? Just scroll down and you'll see it on the left-hand sidebar. It looks like this: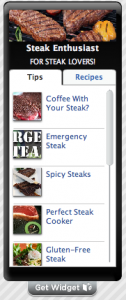 You can use it on your site to keep up with all the tips, posts and recipes going on over here at Steak-Enthusiast.com. You know how we like to talk about steak in all its many facets. And seriously, you don't want to miss anything!
Just press the "Get Widget" button there at the bottom of the actual widget on this page and you can upload it where you like!
Steak tips at your fingertips. Yeah, feel free to use that one. It's on the house.
Happy widgeting, steak lovers!