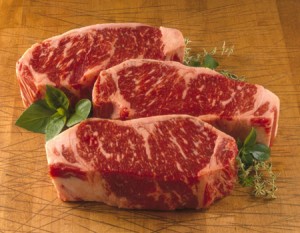 Get ready to welcome 2012!
To me, the best way to celebrate ANYTHING is with a steak. In fact, that's what I will be doing Saturday night.
In this great article by the great Wolfgang Puck he refers to the strip steak as "beef's equivalent to the tuxedo, clean-lined and elegant."
THAT, he says, is the way to ring in the new year.
And I couldn't agree more.
Click here to read Puck's descriptive tale of the beautiful strip and take special note of his recipe for roasted strip steak with port wine mustard sauce.
Any time you can get your hands on a Wolfgang Puck recipe, you know it's going to be good!
Have a wonderful new year celebration and I'll catch you again in 2012 — after you've enjoyed an AMAZING strip steak!
Excerpt courtesy of Wolfgang Puck via ArkansasOnline.com.
Photo courtesy of KansasCitySteaks.com.