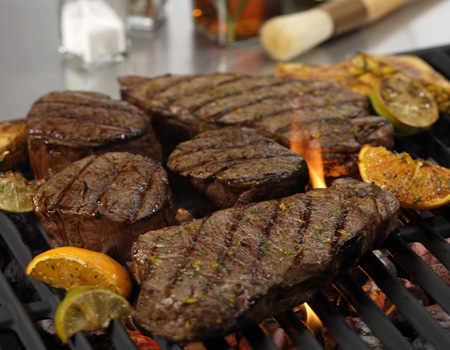 You're grilling steaks at a neighbor's house.
He's pressing down on the steaks, letting all the juice run off the steaks and into the coals.
You're cringing and squelching the desire to grab the spatula out of his hands and do those steaks right.
But you resist. He's a neighbor, after all. And you've gotta live near him.
Grilling steak is your "thing" and everybody knows it. Someone needs a rockin' steak recipe and they come to you because you know what you're doing.
You just might be a "steak enthusiast."
So what is a steak enthusiast? Here's a check list that just might describe you:
You care about your steaks.
You study the best methods of cooking steak.
You choose quality meat.
You know the difference between a filet mignon and a ribeye.
You know which cooking method works best for each cut.
You DO NOT press down on the steaks with your spatula.
You understand seasoning.
You know to let your steaks rest before serving.
People talk about your steaks.
You daydream about the next time you're going to cook some steaks.
So, do you think you're a steak enthusiast?
You're reading this blog, aren't you? I'd say that's an excellent start!!!