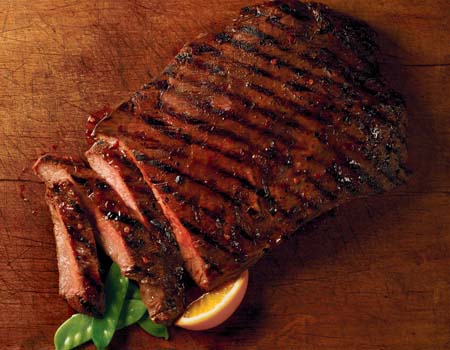 It's the holiday season and food is central to all the joyful gatherings at this time of year. That makes it the perfect time to try 12 new steak recipes in the spirit of the 12 days of Christmas!
Here's one I know will knock some socks off:
Japanese Flat Iron with White Soy and Ginger sauce
Serves: 4
Ingredients:
Asian BBQ Flank steaks               4
Togarashi* spice mix                   3 T
Sauce:
Lime juice                                  1/3 C.
Ginger, peeled and minced                        2 T
White Soy                                 2 T
Garlic, minced                            2 t
Brown Sugar                              1 t
Dijon Mustard                            1 T
Canola Oil                                 3 T
Method:
1.  Sprinkle steaks With Togarashi spice mix, and sprinkle with salt. Grill or sear in a pan until desired doneness is achieved.
2. While the steaks are resting combine the lime juice, ginger, soy, garlic, brown sugar, and Dijon in a blender, or combine with a whisk. While the blender is blending or you are whisking slowly add in oil until sauce is emulsified.
3. Slice beef and served drizzled with white soy ginger sauce.
*Togarashi is a Japanese spice mix, and can usually be found in the Japanese or Asian section of the grocery store or a Japanese market.
And here's another:
Flat Iron Steaks with Herbed Butter
Serves: 4
Ingredients:
Butter                                        4 oz
Fresh Parsley, chopped                 1 T
Lemon Juice                               1 T
Fresh thyme, chopped                  1 t
Flat Iron steaks,  6oz                    4
Butter                                        2 T
Vegetable oil,                             2 T
Shallots, minced                         2 T
Salt and pepper               as needed
Method:
1. In a mixer combine butter, parsley, lemon juice, and thyme. Mix until well combined. Roll up in a piece of waxed paper, and place in the fridge to harden.
2. Preheat oven to 450 degrees.
3. In a preheated skillet, add enough oil to coat the bottom of the pan, and then add the 2 T of butter. 
4. Just when you see the first wisps of smoke, add the steaks to the pan, making sure to not overcrowd the pan. When the steak is properly seared flip and let sear for one more minute.
5. Add the shallots to the pan, and then put the pan in the oven. When the steaks are cooked to their desired temperature, pull them out and put them on a plate to rest, while they are resting. Divide the herbed butter into 4 and place one piece on tope of each steak. Serve after 5 minutes of resting.
I mean, how much more YUM can it get? Visit here for another 10 steak recipes that you like (that equals 12 folks). These steaks are sure to bring smiles this holiday season.
Happy gatherings, everybody!
Photo courtesy of KansasCitySteaks.com.