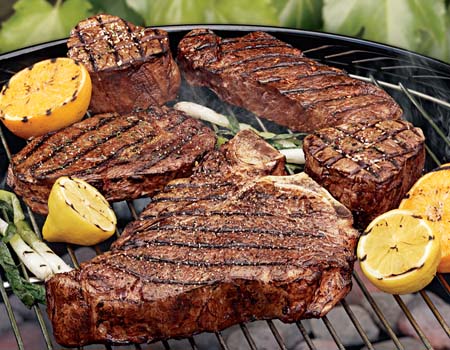 It's here. That time of year when we decide we're going to do better, be better than last year.
Think we can do it?
Some of us like to make resolutions for the new year to keep us on track. And most of us fall off the wagon after week three. It's just human nature.
But it's fun to look to the new year with hope and to see all the promise that 2016 holds. We're here at that magical time, so let's do it.
Here are my ideas for 2016 New Year's Resolutions:
Try out different types of steak. Something you haven't tried before. What? You thought I would get through one list without including steaks? It's impossible. Instead of sugar plums, I've got steak recipes dancing in my head.
Resolve to focus on making other people happy this year. It's amazing how that, in turn, will make YOU happy.
Pick one of your talents and teach it to someone of a younger generation in 2016. Guitar, financial planning – whatever you do well!
Make a pact with yourself to live a healthier life in 2016 – quit smoking, eat healthier, exercise. Just do it.
Visit with someone who lived through World War II. Ask them about their life. It will give you perspective in the new year.
Go into this next year focusing on what you have, not what you don't. Someone always has it worse.
You know that person who has it worse? Find a way to help make their life better.
Think of ways to support and help out the teachers in our community. Year after year, their job seems to get harder and harder.
Resolve that every time you go to the store next year, you'll buy an extra loaf of bread or peanut butter and drop it off at the charity near you who needs it – homeless or women/family shelters.
Pick up a new skill in 2016. Learn to whistle, ride a bike, or use video editing software – whatever. Resolve to expand your knowledge in the new year.
Okay, those are my (some very lofty) resolutions. They're doable, though. What do you think? Will you make some resolutions for 2016? What are yours?