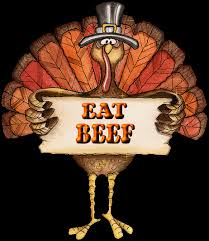 If you're open to it, Mr. Turkey here has a suggestion for Thanksgiving dinner that doesn't involve him:  Beef.
Mmmm, prime rib roast, Chateaubriand, Beef Wellington, steaks. The non-traditional choices are endless.
But, hey, I'm just the messenger. What you eat is between you and the turkey.
Happy weekend, everybody!
Photo courtesy of lefunny.net.